Does this sound like you?
You are a new yoga teacher and want to start teaching but don't really know where to get started?
You've been teaching inconsistently here and there, but finally want to get more serious about your yoga business?
You are a full time teacher, but are lacking structure and clarity when it comes to your business?
You feel burnt out from running around town to teach yoga full time and still struggle to pay the bills?
You want to grow a sustainable and profitable yoga business but feel completely overwhelmed?

Once you are a yoga teacher, you are also suddenly an entrepreneur.
You are most probably self-employed, you have to promote yourself and your services, set up and grow a business, hustle for opportunities to teach, deal with finances and taxes and get out of your comfort zone over and over again.
This is hard work. And it can get lonely.
But every time you get to stand on the mat and teach it's the best feeling ever and you know it is all SO worth it.

Nope, I'm not mind reader (in case you were wondering).
But I understand exactly how you feel because I've been there.
I'm a yoga teacher and mindful entrepreneur living in London and over the moon that you are here.
I'm here to help you:
- say goodbye to feeling overwhelmed and stuck
- work and teach with clarity and focus
- build a sustainable life and business as a yoga teacher that fits YOU
My story
Having experienced the ups and downs along the journey of becoming a yoga teacher myself, I had one big vision: to make the path of becoming a yoga teacher a little less bumpy and even more fun and exciting.

To learn more about my fellow yoga teachers, I conducted a survey amongst 50 yoga teachers to better understand my fellow yogis. When asked about the biggest challenges on becoming or being a yoga teacher, one particular answer struck me:

"Believing that I could."
That was it. There was my why. I knew it straight away. It was all so familiar: the excitement and the self-doubts, the motivation to start something new and the overwhelm of building a second career identity, the "YES-I-can-really-do-this!" attitude and the moments of "I have no clue what I'm doing". In the end, it all came down to one thing: Believing that I could really be a yoga teacher.
what is palms up club?
As my vision became a mission, I decided to start Palms Up Club, a space for yoga teachers to learn the skills they need to start up, to enjoy this journey and to say: Hey, I have a kickass website, a brand that I love and I'm out there, embracing this adventure with open arms. I do that by working 1-to-1 with clients as well as growing an online library of resources, guides and trainings.
I believe that there is a way to present yourself and your services online, while staying true to yourself and your practice.

Why work with me?
I'm a yoga teacher myself, so I know the joy and the struggles that come along with this crazy, amazing journey.

I have a B.A. in Media and Communications (Augsburg University, Germany) and M.A. in Digital Media (Utrecht University, Netherlands).

I went through a start up accelerator coaching program in London with Palms Up Club and have been learning all about starting up a business (with a tiny budget) in theory and in practice.

Together with my professional experiences as a digital project manager and my lifelong love for entrepreneurship, I have a unique perspective that allows me to curate a space for yoga teachers where yoga, entrepreneurship, online marketing and mental wellbeing are brought together.

I follow a strict Mary Poppins approach: when there's a job that must be done, then there's an element of fun. Even if it's hidden somewhere in the corner behind the couch: WE WILL FIND IT! Seriously though, let's not take ourselves too seriously. There is always time to blast your favorite tunes and celebrate your successes (and failures!) with a little dance party.
Want to take action?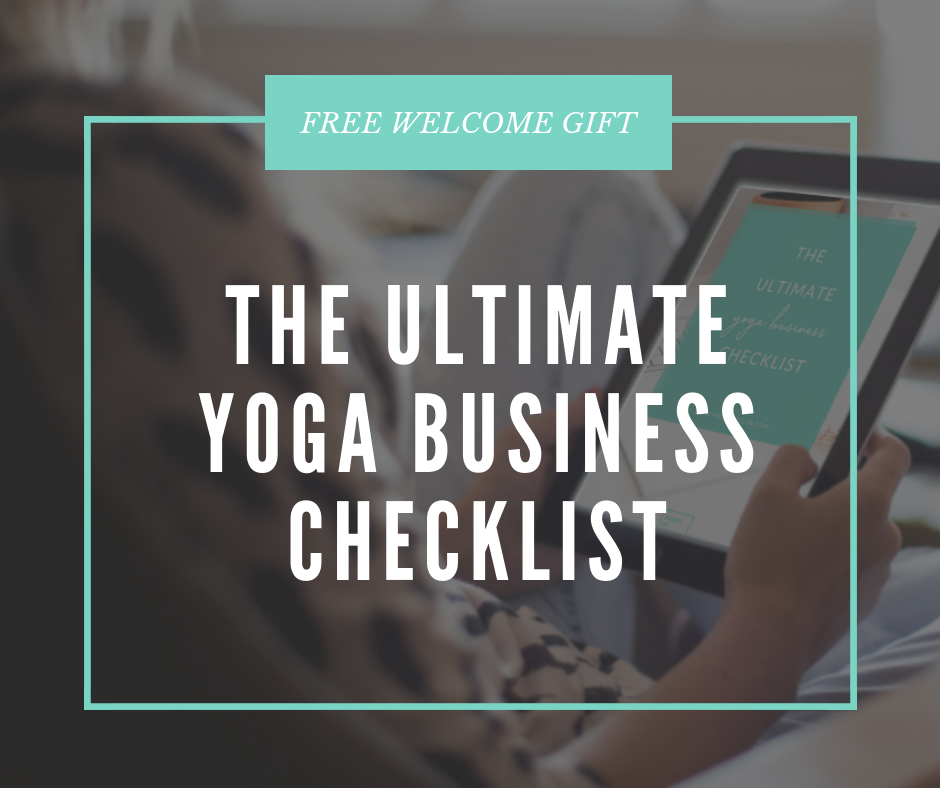 Get your free Yoga Teacher Checklist.
Reduce overwhelm, save time, follow clear actionable steps.